Friday, August 20th, 2010
---
1:42 pm
- Drama you thought you left behind
I haven't posted on her in forever, but I was curious about the dates of past events that seem like former lives ago. I bet I could track some of them down, but I'm not sure what the point would be. The ones from when I first started writing on here would be things like the Heaven and Hell Party, the last episode of Xfiles party, the trip to Chicago (both actually, first one was Mike, Tom and I, second one was Lindsay, Nick, and a bunch of other people).

I'm pretty bad when it comes to keeping track of time. That's often gotten me into a lot of trouble in the past.

These days I try to be straightforward and very forthcoming with information, while trying to avoid playing into any drama. I'm really not a fan of getting sucked into drama. It's not so much being worried about what people think of me as much as it seems like a waste of time that could be spent far more positively. But how easily good intentions can lead to miscommunication.

I always figured your friends don't need any explanation and your enemies wouldn't believe you anyways, I don't know if I should be happy to have friends that are my friends even though it turns out they didn't believe me or discouraged. So I'll choose to be happy that the friends have stuck around.

The problem is that I'm not comfortable not being myself, but if I can't have faith that my friends understand me, no matter how thankful I may be that they stick around, they will always be like a double edged sword.

current mood:
contemplative
12:53 pm
- Writer's Block: Songs of summer
What are the three all-time greatest summer songs?
Tuesday, February 10th, 2009
---
12:44 pm
- Regrouping
Feeling the need to regroup again. Fortunately I was nudged by someone who I am so fortunate to have met along the way. I'm not sure where I am going, but some how it has taken me to Florida, Tampa to be more specific. I have a bunch of friends down here, but it's not quite the same, at least not while regrouping, as the friends that are now so far away. I've been fighting a cold for a couple of weeks now, prior to that I was fighting the develop a new website (or set of sites, depending on how you look at it). In the process, the developing more so than the cold, I've learned quite a lot. Unfortunately things didn't come together quite right. I don't really have anything to show, or don't really want to show the pieces I have (depending on how you look at it). So now the project, and consequently my career, is in limbo. The strange thing is that although I don't have anything to show, some how I still have built up a sort of kinetic energy. There are a number of people who are supportive and confident in my ability, even though they do not have any proof. I'm too much of a perfectionist to ever be all too confident in my ability, but at times I see the tricks of the trade and realize just how little other people doing a lot of the same things really know. And the rest of the people that would have any reason to formulate an opinion don't have the slightest clue what's involved in a project like this. When I set out to develop I ended up doing just about everything else instead leaving the developing to suffer. I'm feeling very foggy headed and half writing this half listening to the President's speech. So I'm not sure where this entry was hoping to go, or where I am hoping to go, but I'm back to live journal to update. It's been years since I've spent much time on this site, but one thing that always comes to mind in tandem with Live Journal is that the two people who have given me the most resounding complements, the complements that have meant more than those two probably know, were here spending time on this site all those years ago. So in a way, this is also a silent thank you.

PS Thank god there is a autosave feature, my computer has been freezing far more than a mac should. I think my Hard Drive or the RAM wants to die.
Saturday, November 15th, 2008
---
8:33 pm
- 132 weeks ago
Holy hand bags, it's been forever since I've updated this thing, 132 weeks to be more specific, I don't even remember what I said back then, but I was younger.
Wednesday, May 3rd, 2006
---
11:56 pm
- WEEEEEEEE
Ok, so I started this off to be a brief hey if you need any ideas for your show type of example, but for those of you who know me, once I get on a roll I can babble quite a bit and type quite a lot in quite a limited amount of time required, and virtually no attention to how long. So I thought it might be interesting to post, even if only for my own records..

If you haven't boned up on Oblivion (both on the PC and Xbox360) and War Craft World of that is (PC only...so far...) than a major demographic isn't being touched upon... But forget not the underground quirky games (if your targeting that audience) Katamari Domancy (I think they have a sequel too, but it's still in the dinosaur days of of PS2 for those die hard Sony fans that will wait it out no matter how long it takes for the PS3 (are we getting tired of the name yet, the other two major competitors have already taken to name changes, even if it's just to add 360) and the biggest surprise of the year so far... can we say Wii? How do you want to pronounce it, I of course enjoy the long drawn out "Weeeee" approach and give Nintendo props for being outrageous even if not out selling, but will the name turn away would be buyers, is the new concepts (especially in regard to controllers) attract or turn audiences away, they say they want to attract the non-gamer, does that mean they've given up on the gamers' market? But speaking of controllers, what can you say about the new boomerang of a controller the PS3 is going to packaged with, I don't know anyone who isn't baffled by that. What is Sony saying when they offer a demographic stereotypically comprised of single men (and let me emphasize single) and dual sided dildo complete with vibration features. The first to ideas that come to mind is that much like and unlike Nintendo they are trying to attract a different audience than stereotypically attracted before (i.e. the ladies out there) or they count on gamers needing some kind of edge in the world of women and figure with two controllers both a guy and his girl can both enjoy playing games. Either way, it is going to be a split audience as far as what games are going to be particularly enjoyed. And last, but most definitely not least, let us not forget about Sony's unexpected triumph in yet another realm of interactivity, Guitar Hero. Originally expected to be just a holiday gimmick turned over night hit, inspiring not only tournaments, but a sequel as well, due out... of course... next Xmas. Should we assume it will be for the PS3 or shall PS2 gamers enjoy it as well. Either way RedOctane has plenty of guitar options, including different color options and a carrying bag to go along with their other popular selling Dance Dance Revolution Pads. Keep in mind these aren't the $20 pads you find just anywhere, these are high quality pads, to get closer and closer to the feel of an actual arcade, including a metal pad selling for over $200, but those pads aren't likely to fit in the bag they offer for this game style, at least not with out some major metal flexing, but that's hardly the workout most gamers are looking for.

current mood:
busy
Saturday, April 29th, 2006
---
4:13 am
- Oh yeah, LJ
So I just realized that I have totally lost touch with my Live Journal and more importantly some of the people on here. I actually haven't had a whole lot of time to be online at all, with going to school 25 hours a week, and then working at Greater Media (WCSX, WRIF and Magic), and I really should have more time somewhere in there, but some how I don't. What little online time I do have tends to be checking emails... including my myspace messages. Some of you have already found me there, but those of you who haven't and would like to you can find me at http://www.myspace.com/ejswanso I think I'm going to try and do a better job keeping track of LJ, but I was wondering how many of you out there have a MySpace? I actaully probably wouldn't have been using it as much if it wasn't for all my classmates being on it. That and Mickey Mouse is on my buddy list, how cool is that, Oscar Wilde as well. Ok, now I've said too much. Anywho, miss all of you, how's everyone doing?
Saturday, March 18th, 2006
---
3:11 pm
- Calling all Music and Movie Aficionados
I'm looking to make a list of some of the best songs from movies, primarily romantic movies, romantic comedies, but really anything that stands out, such as..

Your Eyes in Say Anything
Come What May in Moulin Rouge
Don't Want to Miss a Thing in Armageddon
Save Me in Magnolia
Upside down in Curious George
Broken in Curious George
Hold Me, Thrill Me, Kiss Me, Kill Me in Batman Forever
She Is Beautiful in Freaky Friday
A Girl Like You in Empire Records
I Will Buy You A New Life in Blast From the Past
I Melt With You in Not Another Teen Movie
Wishful Thinking in Great Expectations
Coffee & TV in Crule Intentions
N.W.O. in Cool World
How About You in The Fisher King
Save It For Later in Sky High
Let Go in Garden State
Caring Is Creepy in Garden State
Grow Old With You in Wedding Singer
Kissing You in Romeo + Juliet
Colorful in Rock Star
Holding Out for a Hero in Shrek 2
Stay in Reality Bites
Honey in Holes
Accidentally In Love Shrek 2
If Only in Holes
Times Like These in American Wedding
Hold On in Spiderman 2
Moonlight Kiss in Serendipity
I Want You To Want Me in 10 Things I Hate About You
Hold Me Now in 50 First Dates
FNT in 10 Things I Hate About You
Can't Take My Eyes Off You in ConeHeads
Waiting In Vain in Serendipity
The Weakness In Me in 10 Things I Hate About You
On The Road Again in The Dangerous Lives of Alter Boys
When You Know in Serendipity
Build Me Up Buttercup in Mallrats

And so on, feel free to respond or even repost if you are interested in getting other's input. Thanks.

Cheers,
Swanso
Saturday, March 4th, 2006
---
9:55 am
- Eye for and Eye
A friend posted this and I replied to his, so I figured I'd give him and whom ever else the opertunity to do so too..



(

a bunch of qustionsCollapse

)
Tuesday, February 21st, 2006
---
8:29 am
- Just another work rant
Trying to have a conversation with my boss is the mental equivalent of banging my head against a wall.

current mood:
dizzy
Monday, February 20th, 2006
---
7:51 pm
- FireFly
11:06 am
- Baaa
Saturday, February 11th, 2006
---
3:57 pm
- Pizza Hut Poppers Comerical
So let me get this straight.
I just saw a comercial starting off with a very young teenager
progress into Jessica Simpson (selling pizza, as if it were sex)
And then wrap up with the Muppets
Normally I think it's tired to say something to the effect of "what is this world coming to", but what is this world coming to?

current mood:
I've got a cold
Thursday, February 9th, 2006
---
9:59 am
- Look out harvey here comes herman
Saturday, February 4th, 2006
---
12:59 pm
- Super Bowl Half Time Show


A lot of you guys already know, some of you guys are going to be there too, but for the rest of you, Check out the Half Time Show at the SuperBowl, bunch of us are going to be there, with even more others.

We should be at the bottom of the field towards the center or off to the right.
And I should be wearing this..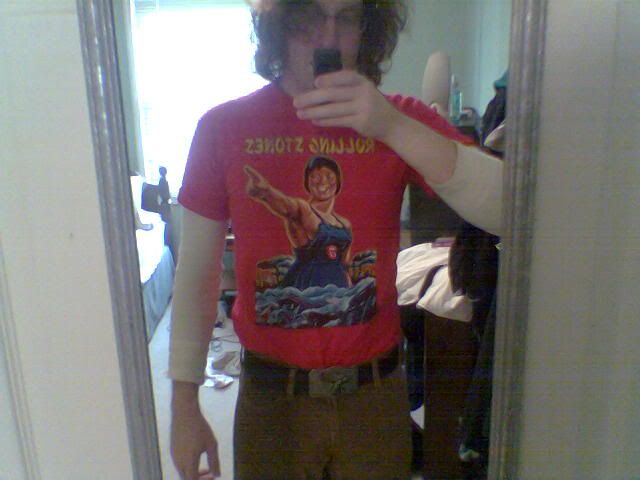 current mood:
excited
Wednesday, February 1st, 2006
---
3:12 pm
- Yes, I need to update more, but due to time constraints, here is a quiz result instead.

You fit in with:
Spiritualism


Your ideals are mostly spiritual, but in an individualistic way. While spirituality is very important in your life, organized religion itself may not be for you. It is best for you to seek these things on your own terms.


80% spiritual.
40% reason-oriented.




Take this quiz at QuizGalaxy.com

Thursday, January 19th, 2006
---
10:53 am
- And So It Goes
Wow, I really suck at updating this thing. If it makes you feel any better I'm just about as bad with my MySpace account, course usually when I update one I just syndicate it on the other, which is probably what will happen with this post too. Unfortunately I really don't have time to post a detailed post (I'm quickly getting sick of the word 'post'). It's funny in a sort of ironic way that when I actually have stuff to talk about I'm way to busy to write it down. Did I mention that I'm going to be on the field during the SuperBowl half time, and maybe even the pre-game show. How cool is that?!?! I'm nearly half way through school 2. Next week will be the last of the mixed bag. Then a week off, and we start the specifics. Unfortunately that also means that the buds that aren't going the same track will no longer be in my classes. Going to miss them, but hopefully will meet some new cool people. And stay in touch with all of them, but we all know how well I stay in touch at times...sorry. Anyway, that's not even the nutshell version of everything that's been going on, that's more like the bag after all the nuts have been eaten, but maybe in a couple of weeks with my time off I can catch up. What this post originally started out to be was a track listing off my latest mix cd, this one actually came together quite well if I do say so myself, I call it "'till your candle burnt my skin: And So it Goes" yeah I've been listening to way to much rent lately..








Name
Artist
Composer
Album
At My Most Beautiful
R.E.M.
michael stipe/mike mills/peter buck
Up
Beautiful Girl
INXS
A. Farriss
Greatest Hits
Then I Met You
The Proclaimers
Craig Reid and Charlie Reid
Sunshine On Leith
All Shook Up
Elvis Presley
Elvis Presley; Otis Blackwell
Elv1s 30 #1 Hits
I Should Tell You
Adam Pascal / Rosario Dawson
Jonathan Larson
Rent (Film Soundtrack) [Disc 2]
Moonlight Kiss
Bap Kennedy
Lonely Street
Jenny Marie (Don'T Go)
Cowboy Mouth
It Means Escape
How Could You Want Him
Spin Doctors
Spin Doctors
Pocket Full of Kryptonite
Kissing A Fool
George Michael
George Michael
Ladies & Gentlemen: The Best Of
George Michael (Disc 1)
Let Me Down Easy
Chris Isaak
Chris Isaak
Always Got Tonight
I Can't Steer My Heart Clear Of You
Elton John
John, Elton & Taupin, Bernie
The Big Picture
Send Me A Song
Celtic Woman (Various)
C.NiDhubhghaill/D.Downes
Celtic Woman
Hear Me Out
Frou Frou
Details
Roll To Me
Del Amitri
Currie
Twisted
Somebody's Crying
Chris Isaak
Chris Isaak
Forever Blue
Without You
Adam Pascal / Rosario Dawson
Jonathan Larson
Rent (Film Soundtrack) [Disc 2]
Crazy 'Bout Ya
Cowboy Mouth
Mercyland
Your Eyes
Adam Pascal
Jonathan Larson
Rent (Film Soundtrack) [Disc 2]
Run To Me
Cowboy Mouth
Easy
Lullabye (Good Night, My Angel)
Billy Joel
Billy Joel
River Of Dreams
Let Go
Frou Frou
Details
And So It Goes
Billy Joel
billy joel
Storm Front
current mood:
amused
Saturday, January 7th, 2006
---
4:16 pm
- Skip 375
So after skipping back 375 posts (oh and mind you I have a filtered list for the stuff I usually have time to read, vs my whole friends list) I finally got to the stuff I have already read, therefore caught up. Only now I'm too tired of being infront of the computer to post. So all I cna say right now is that I've been busy. Details will come at a later time. Hope everyone is doing well in '06!

Cheers
12:41 pm
- I should tell you I should tell you
I don't normally do these, but I actually have free time for once, and it was snagged from a pretty cool cat.

1. What did you do in 2005 that you'd never done?
I bet a lot of things, I like trying new things, no specifics really come to mind.

2. Did you keep your new year's resolutions, and will you make more for next year?
Never make them actually, but I think I'll steal Becky's it's one to always live by.

3. Did anyone close to you give birth?
Yes

4. Did anyone close to you die?
Yes

5. What countries did you visit?
U.S. and Canada

6. What would you like to have in 2006 that you lacked in 2005?
I'm good let someone else have it.

7. What date from 2005 will remained etched in your memory, and why?
I have a bad memory, maybe the 12th and 26th of September because of all the people I met, whom I'm close to now.

8. What was your biggest achievement of 2005?
Picking myself up and finding a personal fortitude like none that I have had before.

9. What was your biggest failure?
I don't believe in failures, they are realy just sckewed sucesses.

10. Do you suffer illness or injury?
Nope, I don't suffer from them, they add a demention to my life.

11. What was the best thing you bought?
As much as I could care less about materal possessions and my first thought was to think of a gift I got someone, I do have to admit I'm fond of my 61 Key Midi interface and the idea of getting back to creating music.

12. Whose behavior merited celebration?
All of my friends, I'm stealing this anser too, but not giving an explaination.

13. Whose behavior made you appalled and depressed?
Who am I to judge

14. Where did most of your money go?
All over the place really.

15. What did you get really, really, really excited about?
Everything!

16. What song will always remind you of 2005?
Just one, yeah right

17. Compared to this time last year are you:
i. happier or sadder? much happier
ii. thinner or fatter? Thinner, I get thinner when I'm happier
iii. richer or poorer? it's only money

18. What do you wish you'd done more of?
everything!

19. What do you wish you'd done less of?
nothing!

20. How will you be spending Christmas?
with family

21. Did you fall in love in 2005?
All the time! I've got a lot of love to give! As for whether I was single or not, I was actually single for all of '05, that in it's self is amazing.

22. How many one night stands?
None, I was a good boy.

23. What was your favorite TV program?
I don't watch TV when it's on I watch it on DVD, but Arrested Development was probably the biggest one, oh opps, sorry nope definitely Firefly was the biggest one, and I did watch a bunch of Smallvile

24. Do you hate anyone now that you didn't hate this time last year?
I never hate anyone, sorry, I don't see people that way.

25. What was the best book you read?
Good question, no I really like the question, I'd say Angels and Demons, but Age of Spiritual Machines is quickly climbing up the list, but I only started that in '05 I'm just hoping I finish it before '07

26. What was your greatest musical discovery?
There are so many... the most unexpected one would be HIM, who knew they were mellow, not me at least.

27. What did you want and get?
I'm fine let someone else have it... ok guess I'll answer the 61 Key Midi again, but the thing that I got that I didn't want (well didn't expect) was one of my friends made me a music video by putting a bunch of pictures she had taken to a HIM song, it was the coolest gift I've ever gotten.

28. What did you want and not get?
Everyone else's wishes for them... well that really isn't true either, because often there are good reasons to not get what you want.

29. What was your favorite film of the year?
Another hard question, forgive me if I forget any, but let's say Kong, Rent, and Hitchhikers.

30. What did you do on your birthday and how old were you?
My friends took me to ren fest and had me arrested. How old do you think I am?

31. What one thing would have made your year immeasurably satisfying?
living it, check!

32. How would you describe your personal fashion concept in 2005?
overweight pirate transforms into.. what the beegeebees am I now?

33. What kept you sane?
Ha ha ha, ain't that a lost cause!

34. Which celebrity/public figure did you fancy the most?
Julianne Moore of course! Rachael McAdams is quickly climbing the list, and Sarah Vowell will probably always hold the #3 spot.

35. What political issue stirred you the most?
I don't want to talk about politics, who am I to judge, I guess the issues that I'm most passionate about are the ones to stop other people's judgements from effecting the lives of other people, cough cough gay rights, does the question of whether or not they should have equal rights just seem absurd to anyone else, explain to me at what point did they stopped being human and deserving of the same rights as everyone else, was it at the "g" the "a" or the "y". Love is love and people should start showing more of it not preventing other people from it and don't even get me started on how it's suppose to be freedom of religion to eliminate it, I guess I just figured it was freedom of religion, not from it. The idea was to be alowed to avoid persecution for it, did I hear that someone got sued for saying Merry Christmas, wtf!!!

36. Who do you miss?
Everyone and no one, don't be sad that it's over, be glad that it happened.

37. Who was the best new person you met?
Wow, what a fantastic question, but I couldn't narrow it down to just one person, in no particular order, Samantha, Nicole, Denis, Randy, Rebbecca, Rachelle, Dana, Andrea, and you if I met you this past year and havent mentioned you it isn't because I'm not glad, it's because I have a bad memory when it comes to recalling things, so give me a call or drop me a line.

38. Tell us a valuable life lesson you learned in 2005:
"Seize the Day" hey that's a good one, I think I'll keep it right there, but more importantly I've learned to truely and completely love myself so that I could truely and completely love everyone else. "Seize the Narcissism!"

39. What song lyrics sum up your year:


(

One Song GloryCollapse

)



current mood:
thankful
Wednesday, January 4th, 2006
---
11:02 am
- Ha HA HA this is way too funny!

Your Social Dysfunction:
Happy


You're a happy person - you have a good amount of self-esteem, and are socially healthy. While this isn't a social dysfunction per se, you're definitely not normal. Consider yourself lucky: you walk that fine line between 'normal' and being outright narcissistic. You're rare - which is something else to be happy about.




Take this quiz at QuizGalaxy.com




Please note that we aren't, nor do we claim to be, psychologists. This quiz is for fun and entertainment only. Try not to freak out about your results.



current mood:
amused
Sunday, December 25th, 2005
---
8:18 pm
- Happy Holidays
Happy Holidays, including and not limited to Christmas, Hanukkah, Kwanzaa and New Years.

I hope all of you have been having a good holiday, and that you have plans you are excited for in regards to New Years Eve.

But just in case you don't, feel free send me a message, I know of a couple/few things going on, but I'm not 100% sure what I'm doing this year and I wouldn't want to hear that someone didn't have plans that wanted too and you guys are always more than welcome to join me in whatever I end up going with.